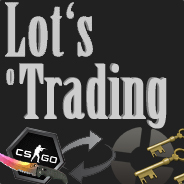 Lot's O Tradin' (L'sOT')
Got something to trade? You are in the right place!
Steam Group Page
General Rules

Strictly follow Steam Guidelines

Advertising sites, groups and workshop items is not allowed without permission

Trading or farming keys from our giveaways is not allowed

Trolling, flaming, phishing, rep for repping and refferal links are not allowed

Trading is ALLOWED but, you will have more chances to trade at Original Traders Group

Begging/Asking for free keys will get you banned

"Comment on my profile" giveaways are not allowed and will result into a ban for both users

Impersonating is not allowed

Chat Rules

One ad every 5 minutes

If your ad is still visible you are not allowed to post another

Private Messaging people with unrequested offers is not allowed

A maximum of 3 items is allowed per message

Forum Rules

One thread per day

Do not post double threads

Breaking any of these rules will result in a warn or a kick. Breaking them again will result into a ban.
We might change the rules at any given time and we will inform users about the changes.
Useful Links
Looking for more giveaways?


• Check out Giveaway News,and Giveaway Central two places where giveaway groups post their giveaways!
Join our Socials
Follow our reviewers
Twitter Channel
Discord Server
[discord.com]
Twitch Channel
[www.twitch.tv]
Lot's O Network
🔃 Original Traders Group
🎮 U.S Gaming Community
💰 Original Deals Group
Members