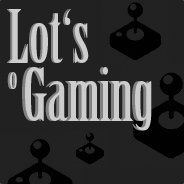 Lot's O Gaming (L'sOG)
A place where you can share your opinions about games and servers!
Steam Group Page
F.A.Q.




Whats Lot's O Gaming?

Lot's O Gaming is a group part of Lot's O Network where you can share your reviews, game servers, youtube let's plays, gaming news, screenshots, artwork and other related content.



How can I support Lot's O Network?

- You can support us by simple inviting your friends or by putting [LOG] next to your username. You can also support us by donating steam keys for our giveaways.
General Rules

Strictly follow Steam Guidelines

Advertising sites, groups and workshop items is not allowed without permission

Trading or farming keys from our giveaways is not allowed

Trolling, flaming, phishing, rep for repping and refferal links are not allowed

Trading is ALLOWED but, you will have more chances to trade at Original Traders Group

Begging/Asking for free keys will get you banned

"Comment on my profile" giveaways are not allowed and will result into a ban for both users

Impersonating is not allowed

Breaking any of these rules will result in a ban.
We might change the rules at any given time and we will inform users about the changes.
Useful Links

GameTracker

[www.gametracker.com]

- See your server stats and boost your popularity
Join our Socials
Follow our reviewers
Twitter Channel
Discord Server
[discord.com]
Twitch Channel
[www.twitch.tv]
Top Partners
🎁 Original Giveaway Group
💰 Original Traders Group'
🎮 U.S Gaming Community
Members