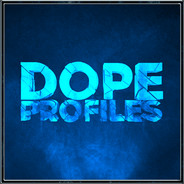 Dope Profiles (DopeProfiles)
✐ ᴛʜᴇ ᴅᴏᴘᴇsᴛ ᴀʀᴛᴡᴏʀᴋ ᴄᴏᴍᴍᴜɴɪᴛʏ ✎
Steam Group Page
Welcome to Dope Profiles
Dope Profiles is a community for everyone with the passion, interest or curiosity about art,        a place where you can get help with something artwork related, find beautiful screenshots, artworks or emoticon arts, find trustworthy designers, helpful guides, friends who share the same passion, win games, discuss any types of art forms or effects in both text and voice!    Feel free to join our ᴅɪsᴄᴏʀᴅ sᴇʀᴠᴇʀ

[discord.gg]

and check out the ɢʀᴏᴜᴘ ᴅɪsᴄᴜssɪᴏɴs!
ᴏᴜʀ ʀᴜʟᴇs
Be Polite and do Not flame or insult other members, nor advertise other communities.

inactive threads in discussions will be locked to make it easier for us to help members.
ᴏᴜʀ ɢʀᴏᴜᴘ
ᴘʀᴏғɪʟᴇ ɪᴍᴘʀᴏᴠᴇᴍᴇɴᴛs / ғᴇᴇᴅʙᴀᴄᴋ: Interested in getting some help with making your profile  more artistic? We would love to help you with improving it, as it's the purpose of the group!


ᴘʀᴏғɪʟᴇ ᴄᴏɴᴛᴇsᴛ: Profiles of the Week is a contest where the dopest profiles of everyone entered is rewarded with a game! The dopest of the dopest profile of the weekly winners is chosen by our members to be the ultimate Profile of the Month. The winner is rewarded with card sets and selected as the group player for a whole month!


sʜᴏᴡᴄᴀsᴇs: Every week, we pick out 5 of the most beautiful and creative screenshots from discussions, while every other week, 3 artworks are included.




ɢʀᴀᴘʜɪᴄ ᴅᴇsɪɢɴᴇʀs       |       ʙʟᴀᴄᴋʟɪsᴛᴇᴅ ᴅᴇsɪɢɴᴇʀs       |       ʀᴇᴘᴏʀᴛ ᴠɪᴏʟᴀᴛɪᴏɴs
ᴏᴜʀ ᴘᴀʀᴛɴᴇʀ
♥ We hope everyone has a wonderful stay here at Dope Profiles ♥
♘ ᴅᴏᴘᴇsᴛ ᴘʀᴏғɪʟᴇs - ᴠɪᴘ
♔ ᴅᴏᴘᴇ ᴘʀᴏғɪʟᴇs - sᴛᴀғғ ᴛᴇᴀᴍ
Members